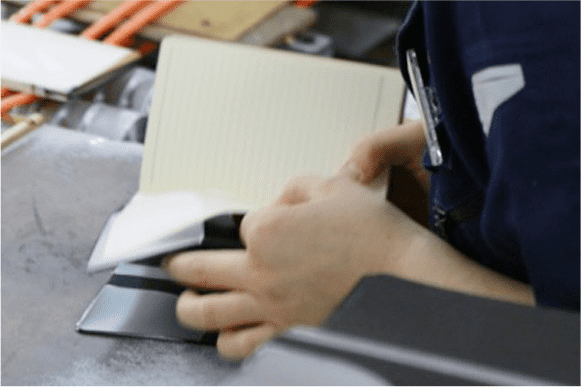 "Confidence" and "awareness" are the driving force; Leaders who have started the autonomous activities
Regarding the changes in the leaders who took the P Course, Mr. Murakami said, "After that, they have changed a lot. They are imposing. Maybe they have gained confidence. Until now, they couldn't say things clearly, being worry about 'I have to tell them well' and 'What do they think of saying this?' Now they are able to speak in a dignified manner at the morning meetings."
In addition, when the leaders' seats were set up in the office, they began the autonomous activities while deepening the exchanges with their colleagues. "They were people on the site, so they didn't have a seat in the office until now. After the P Course, I gave one PC to every leaders because they wanted to take the data. Everyone gathered when the work at genba was finished. They're sharing the information and doing a lot of things."
In the future, it will be a challenge to instill the leaders' instructions throughout, but the understanding of improvement activities by leaders in this P Course was a big step. Mr. Murakami expressed his hopes, "After taking the P Course, the dots were finally connected to the line, and I would like to continue to do it next year with the leaders or the candidates for the next leaders."
The JMAC consultant, who served as a trainer on the P Course, said "As the words of 'no management without measurement' suggest, it is very important to continue the steady efforts. In the P Course, everyone at Shinjudo fully understood this concept, and achieved the certain results in a short period of time while demonstrating their respective leadership. I feel the organizational culture that can be expected to make further leaps forward is being fostered in the future."
"People will always change"; Top beliefs have nurtured people and changed the organization
In addition to the weekly morning meetings, Mr. Murakami has been working on one thing for five years. It is operational work in the factory done with the employees. He has mainly stacked the products. Mr. Unno recalls "At first, everyone was really surprised, and there were a succession of people rushing to the office saying 'The president is in the factory now. What should I do?'" Mr. Murakami explained "Genba is the most important place for manufacturers. It is the site where various things happen, and if we don't get into it, we will not know anything about this company." He said "I still can't forget their anxious eyes when I greeted them five years ago. They look like 'What will happen to us after becoming a subsidiary with new president? What are we going to do?' That's why I thought, 'First of all, I have to be one with them.'
As the result of continuing these efforts, the employees' awareness for delivery time has changed dramatically. "When something went wrong, the number of people offering to cooperate was increasing, saying 'Is there anything I can do?'" However, Mr. Murakami says that there is still room for improvement. "I am still saying about PDCA, which is proceeding with work in a planned manner, and the basics of report and communication called Hou-Ren-Sou."
In addition, the leaders began to grow in the organization that were previously flat, and everyone began to think about what the company should be. Mr. Murakami says "Now, young leaders in their 20s and early 30s are very pulling us as assistants to section chiefs, and at the annual training camp meetings, we are all discussing various problems and what kind of company we want to be."
Looking back on the past five years, Mr. Murakami said "I sometimes wondered if people would really change, but if we gave up, it would end. It takes time. I didn't give up, and I've been saying the same thing repeatedly until I get them to understand. That's why I think education and everyday relationships are very important."
To be a company that can spread Shinjudo brand and create dreams and careers
Regarding the future management issues, Mr. Murakami said "First of all, I would like to do what we take for granted as a company. We want to increase sales, reduce expenses, make good profits, and give back more to our employees. With the same weight, I would like to make it a company where everyone can envision their future state and career that they want to aim for in two – three years at Shinjudo. We are the manufacturing company that relay on employees, so we have a desire to take care of people."
In addition, it is important to coexist well with IT, and he said "I would like to distinguish the things that people have to do what they really need to do from the things which can be done by sensors and robots. Then, people can do something else, for example, the research of binding more deeply, and they can advance their careers. With the help of this modern age, I would like to raise the level of our bookbinding business."
Finally, he talked about the future of Shinjudo and his thoughts on employees. "We are currently making notebooks as an OEM. However, eventually I would like to put out our notebooks to Japan and the world as Brand of Shinjudo. By disseminating it outside, I think it will be rewarding for our employees and make it easier for them to draw their dreams."
Shinjudo's people and organizations are undergoing major changes by the human resource development that they have started with the aim of achieving zero delays in delivery. The new challenge of the notebook-making professionals has just begun.
(Proficiency skills create NOLTY quality)
Since its birth in 1949, when the proficiency skills create NOLTY quality, the "Noritsu Techo (pocket notebook)", which has been used habitually by many business persons, was reborn as the "NOLTY" brand in 2013. What has been loved for many years is that there is a commitment to thorough quality, and it is transmitted to users. The NOLTY quality is supported by the skilled craftsmen of Shinjudo. From printing to paper cutting, folding, collating, backing, and cover mounting, the sense and techniques by the craftsmen create NOLTY quality. In particular, the cover mounting cannot be done by machines, so the proficiency craftsmen finish it by hand one by one.
Comment from the consultant in charge
"Feeling based on experience" is a useful prescription for the organizational reformation activities
"Production Meister" and "P Course" were very effective efforts to establish the organizational image that the company aims for "with real feeling". This time, Shinjudo has gained the experience in unifying the definition and meaning of various words such as "QCD" within the company through classroom lectures and practical training. At the same time, they have completed the improvement cycle "with an organizational manner". Through these efforts, I believe that the members of Shinjudo were able to realize the process and steps necessary for the organizational reformation. I look forward to the further growth in the future.