Active KPI
in sales and marketing
For successful process management control and measurement are key factors. The pursue of excellence, entails in the long run a double-faced driver application of value for the customer and value for the business, which is really important in the sales management (Sales process excellence). Such joint perspective is the guideline of all the consulting projects by JMAC.
Given a business process, KPIs allow:
performance measurement
reference standard setting (target, objective, … mapping the as-is v. to-be conditions)
result acknowledgement, i.e. a check of the performance against the target / benchmark = acquisition of the  knowledge needed for improvement 
An active use of key performance indicators (KPIs) helps run continuous improvement cycles (PDCA cycle: plan-do-check-act) 
The methodology by JMAC (taught at workshops or within consulting projects), starts from the definition of medium-term company objectives. Through specific analysis per each phase of the commercial process on focus, a set of relevant KPIs are selected for business change sustainability.
In JMAC's vision on KPIs in the sales field the importance is higher in looking for process KPIs even before the KPIs referred to results. Here are the reasons why looking for PROCESS indicators is fundamental:
if the sales team become effective executors of the PROCESS indicators, the RESULTS indicators will improve accordingly
Identification, measurement and even more the coaching undertaken about the "right" indicators (KPI) directly affects changes in behavior and result in a crosswise skill-up of the team
A clear focus on PROCESS KPIs allows to highlight where to spend more time and energy. This changes behaviors of the sales team members. A steady focus on a set of process KPIs brings about consistency of the sales activity and what the company is interested in. 
Dashboards are defined according to the tools / programs in place at the company.
About our project path: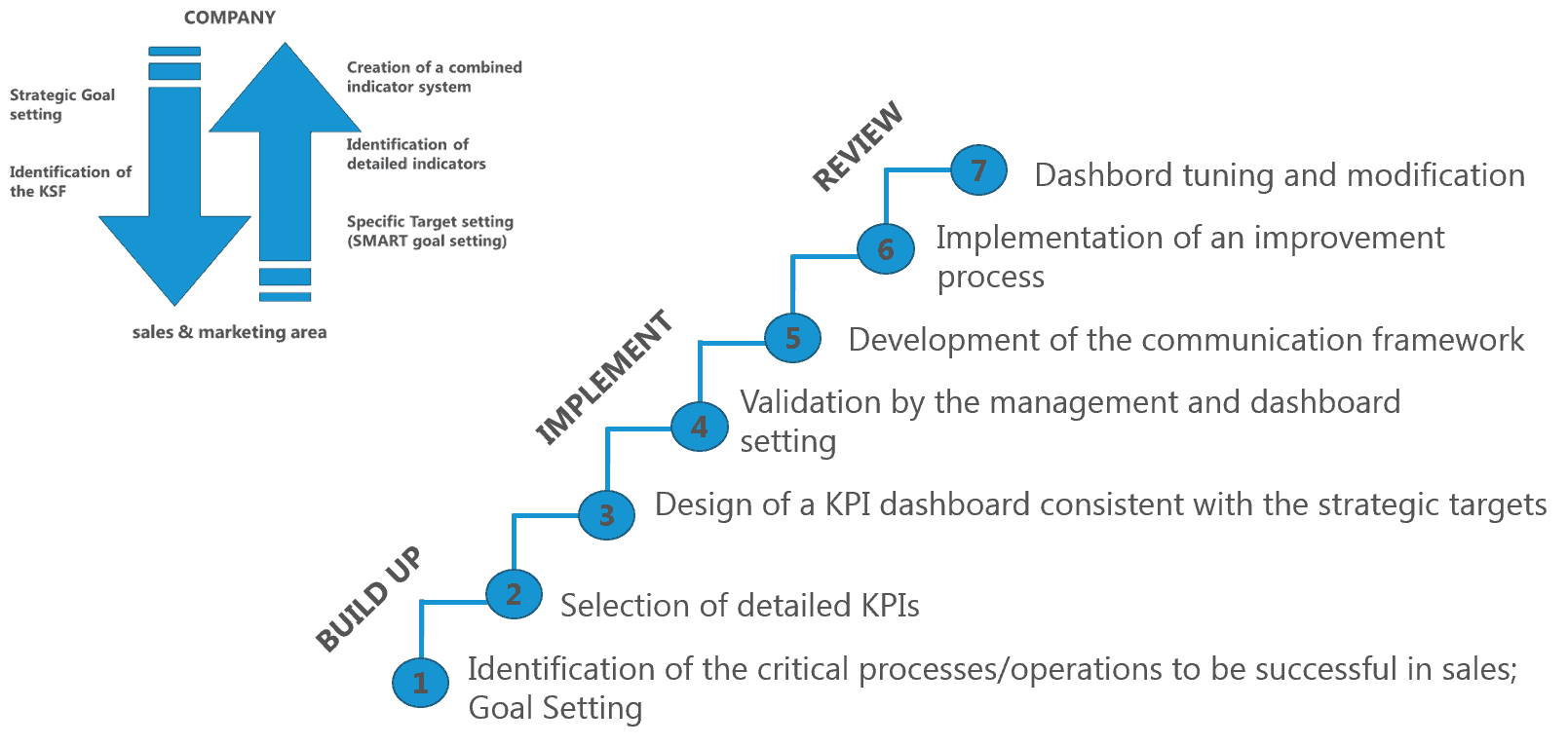 In setting processes and selecting the KPIs, attention is always paid to customer satisfaction, not less to build up relationships rewarding the creation of value  (for  both the business and the customer) in the long term.